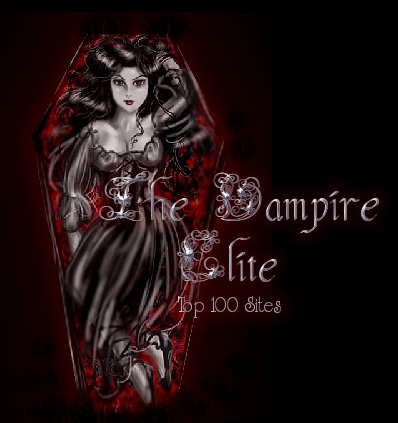 Add Your Site | Member Login | Contact Administrator
List does not reflect votes immediately, updates occur every 30 minutes.
Incoming and Out going hits are limited to 1 vote per i.p. address on a hourly basis.
The Vampire Elite Top 100 is for Vampire related Websites Only!
The Vampire Elite Top 100 is provided and maintained by:
Darkness Embraced Vampire and Occult Society
Site Of the Moment:
Atlanta Vampire Alliance [AVA]


An independent real vampire house located in Atlanta, GA. Our mission is to promote dialogue throughout the vampire community while conducting serious research into vampirism & energy work. We encourage self-awareness, education, & responsibility.


Last Update: Wed, Dec.07.2016 5:19
Next Update: Wed, Dec.07.2016 5:49
Next Reset: Sun, Dec.18.2016 5:25
Sites: 102